Bali has always been blessed with endless destinations from tropical rainforests, lush rice fields, beautiful beaches to majestic mountains. When it comes to glamping, Bali has its fair share of unique, comfort and cool places to camp in style. Here is a list of 9 cool and affordable glamping experiences you can have in Bali for your vacation pleasure!
1

Autentik Nusa Penida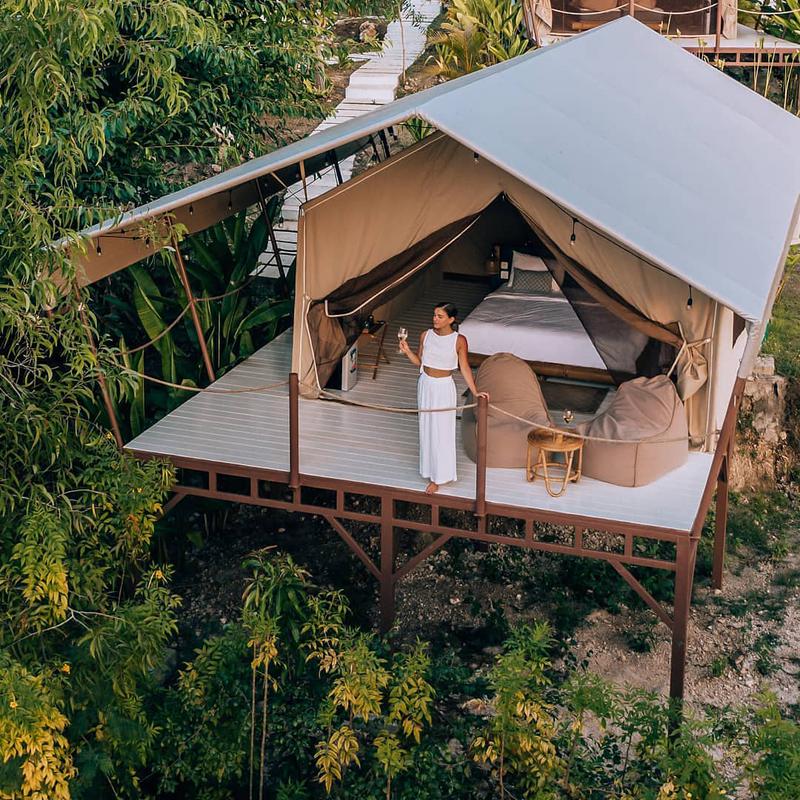 Photo by @thewayfaress
Autentik Nusa Penida is an eco-lodge retreat, comprising 8 luxury safari tents. Nestled at the heart of unspoilt nature, this chic lodge comes with all modern conveniences including air conditioned, ceiling fan, WiFi, a king size bed, ensuite bathroom and private balcony with chill-out area. If this sounds up your street then make sure to book this place for your next vacay in Nusa Penida Island.
AUTENTIK NUSA PENIDA
Jalan Crystal Bay, Nusa Penida, Sakti, Nusapenida, Klungkung, Bali 80771

IDR

2,071,000

(USD

130

) / room / night
Book via

2

Bali Jungle Camping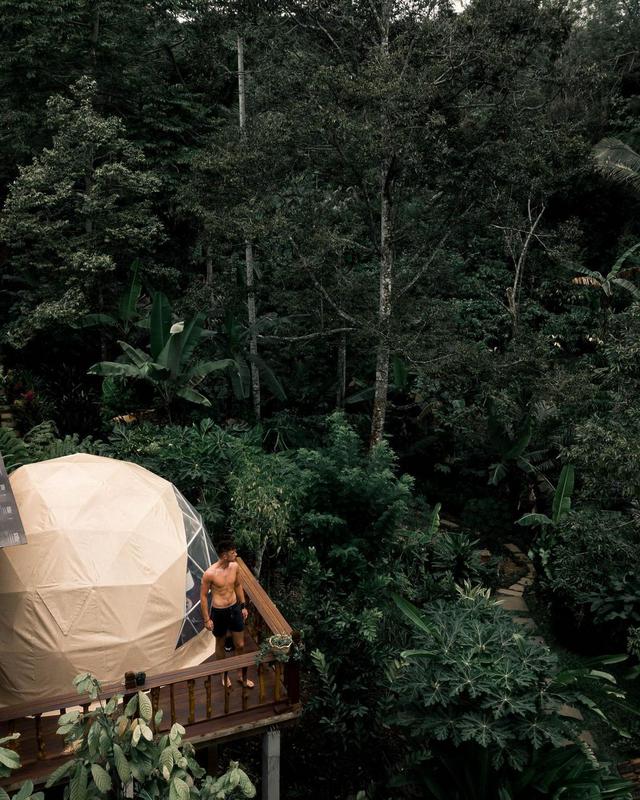 Photo by @joshpeters8
Situated in the middle of coffee plantations in Padangan, Central Bali, Bali Jungle camping has a beautiful scenic view of natural plants and green surroundings all around. Here, there are 4 wooden houses and 4 Geo Dome tents which have doubled beds, ensuite bathroom, private balcony and BBQ. In addition, they also have a local cafe on site that provides all ingredients of organic fruits and vegetables from the property's vast garden.
BALI JUNGLE CAMPING
Jalan Kebon Padangan, 82163 Tabanan, Indonesia

IDR

778,000

(USD

49

) / room / night
Book via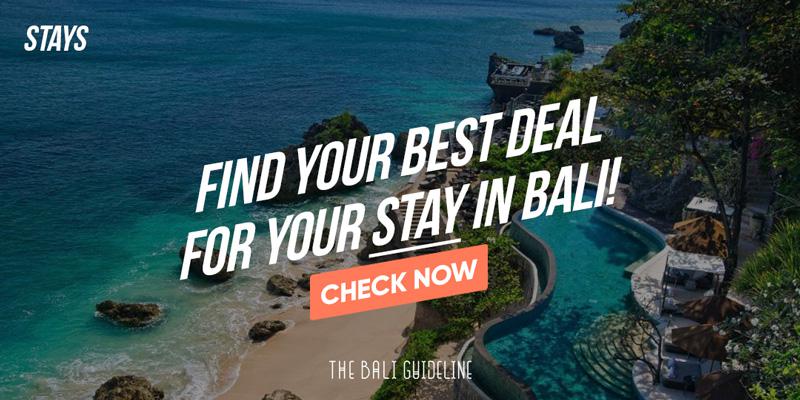 3

Bobocabin Kintamani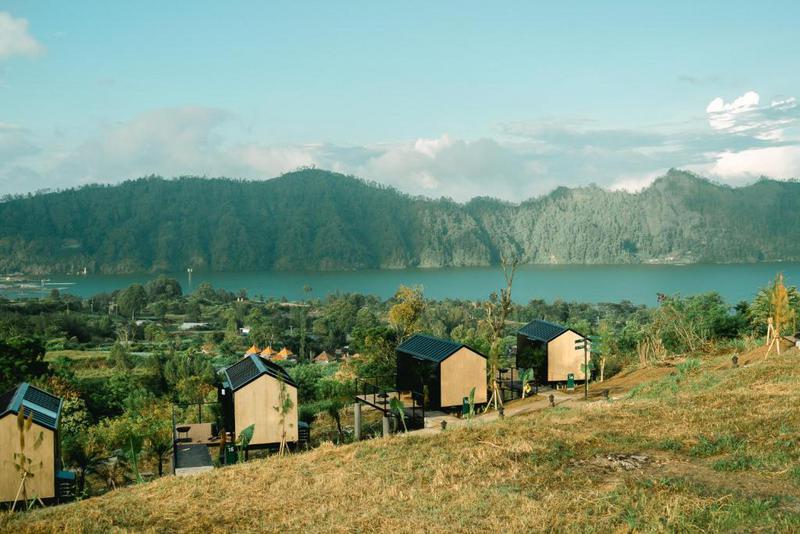 Photo by @boboboxadventure
Enjoy the best high-quality sleep and wake up to the breathtaking view of Bali's highlands with Bobocabin Kintamani. As the first Bobocabin in Bali, Bobocabin Kintamani offers an unforgettable stay full of comfort and modern technology for your vacation of rich culture in Bali. Now, you can witness and appreciate the beauty of Batur Lake and the mountains of Kintamani right in the comfort of your very own warm and high-tech cabin.
BOBOCABIN KINTAMANI
Jl. Mundukan Ngandang Jl. Song Dikit, Songan A, Kintamani

IDR

764,000

(USD

48

) / room / night
Book via

4

Ubud Tropical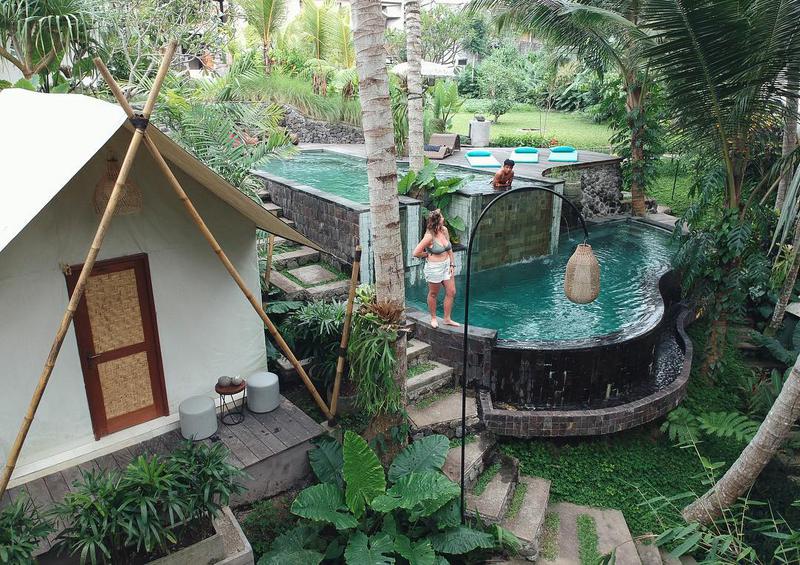 Photo by @surfingsidewalks
Just 8 minutes from the Ubud Centre and 10 minutes away from the sacred monkey forest, enter Ubud Tropical, a unique accommodation where you can blend with nature. Offering a Glamour Camping Tent aka Glamping Tent equipped with full amenities such as queen sized bed, air conditioner, LED TV, private bathroom, infinity swimming pool and personal terrace where you can enjoy the mesmerizing view of ubud rivers and nature.
UBUD TROPICAL
Jalan Crystal Bay, Nusa Penida, Sakti, Nusapenida, Klungkung, Bali 80771

IDR

138,000

(USD

9

) / room / night
Book via

5

Ekommunity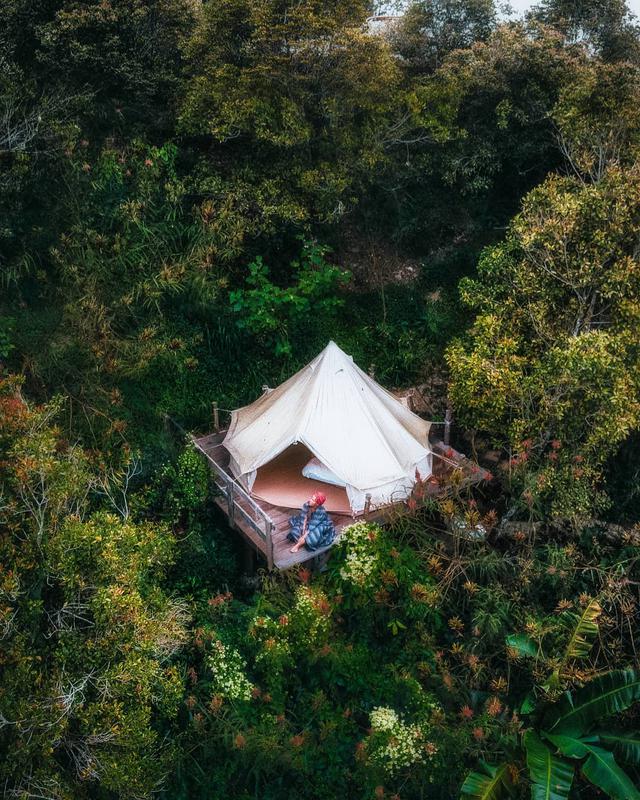 Photo by @7vensuns
Once you've spent your day experiencing the beauty and adventure of North Bali, you can return to your glamping spot and unwind in style. Ekommunity Bali is a farmstay and yoga center nestled in the mountains near Munduk, built on elevated wooden decks overlooking the beautiful landscape of rainforest and come with complete serenity. If you are a nature lover, this place is meant for you.
EKOMMUNITY
Jl. Kayu Putih, 81152 Munduk, Indonesia

IDR

1,436,000

(USD

90

) / room / night
Book via

6

Suara Glamping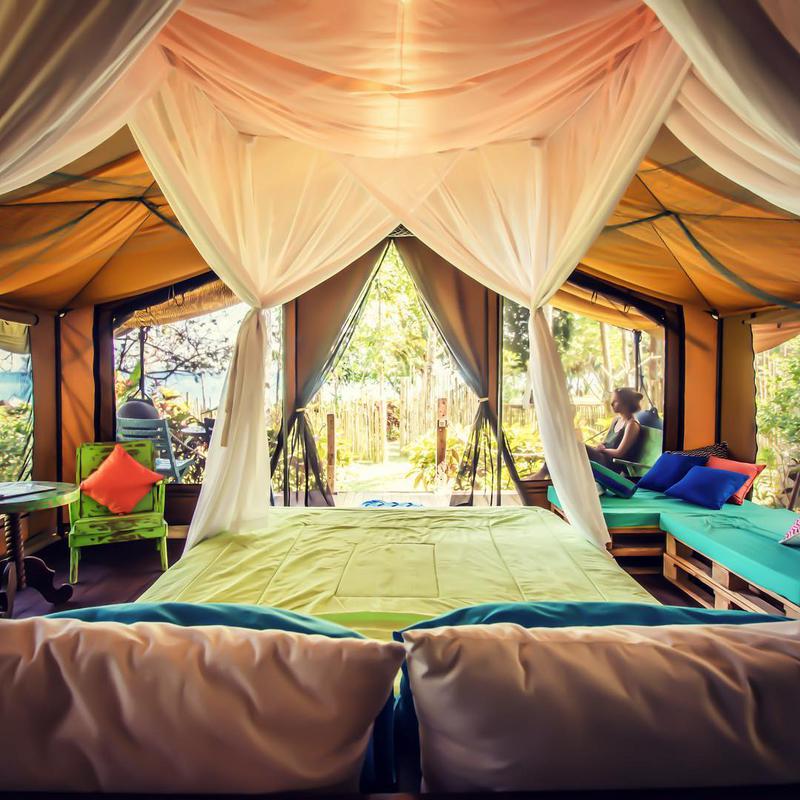 Photo by @suaraglamping
Suara Glamping is a secluded, private, beachfront resort that has two luxury safari tents located in Melaya, West Bali. With a focus on unforgettable travel experiences, you will relax and connect with the culture, nature and people of Bali while enjoying the views of volcanoes and sparkling lights of Java across the Bali Strait.
SUARA GLAMPING
Sumbersari, Melaya, Jembrana Bali
- Google Maps

Price :

Approximately USD 65 /room/night
7

Njung Bali Camp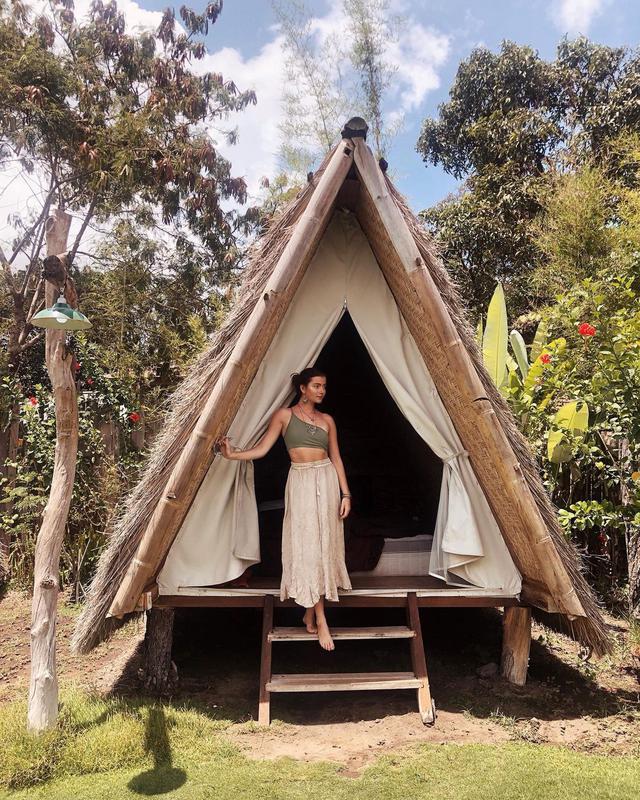 Photo by @daphnekooy
A stone's throw away from Batur Lake and the entrance point of active volcano Mount Batur, experience a magical stay at a fancy teepee or glamping tent. Enjoy a double, wifi, indoor fireplace, and a small private terrace for your morning coffee or tea, reading or to gaze at the amazing star-filled sky. Unplug, get up close with nature amidst the beautiful, laidback outdoors.
NJUNG BALI CAMP
Banjar Dalem Songan B, Songan A, Kec. Kintamani, Kabupaten Bangli, Bali

Price :

Approximately USD 20/room/night
Book Now
8

Sunrise Hill Camp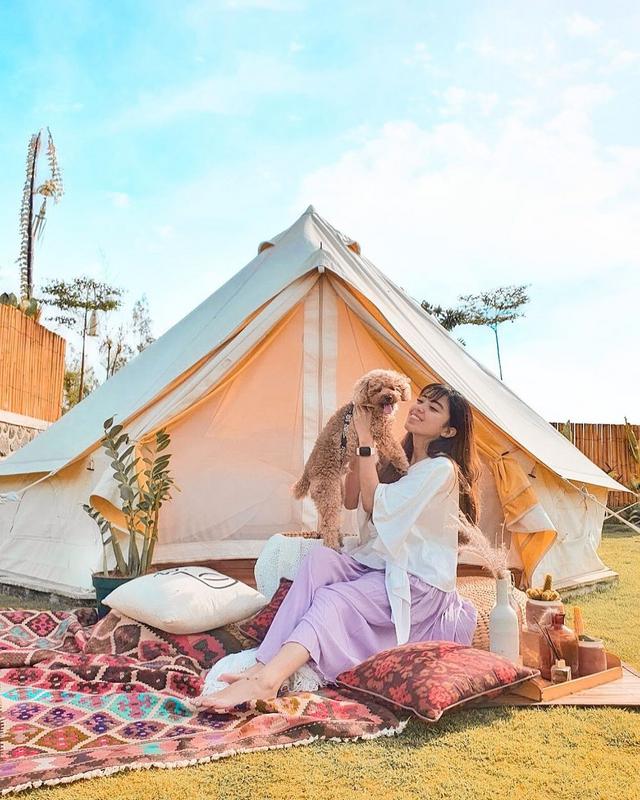 Photo by @shannenmisiliu
If you fancy spending a night with an amazing lake and mountains view then get yourself to Sunrise Hill Camp. You'll find this beautiful glampsite located in the Songan Village, Kintamani. Imagine peeling yourself out of bed before the sun rears its head, sipping a cup of coffee while watching the sunrise. The best part? You can also have your bbq night and firepit with your friends or family.
SUNRISE HILL CAMP
Jl. Song Dikit, Songan A, Kec. Kintamani, Kabupaten Bangli, Bali 80652
- Google Maps

Price :

Approximately USD 32/room/night
9

Jungle Bubble Lodge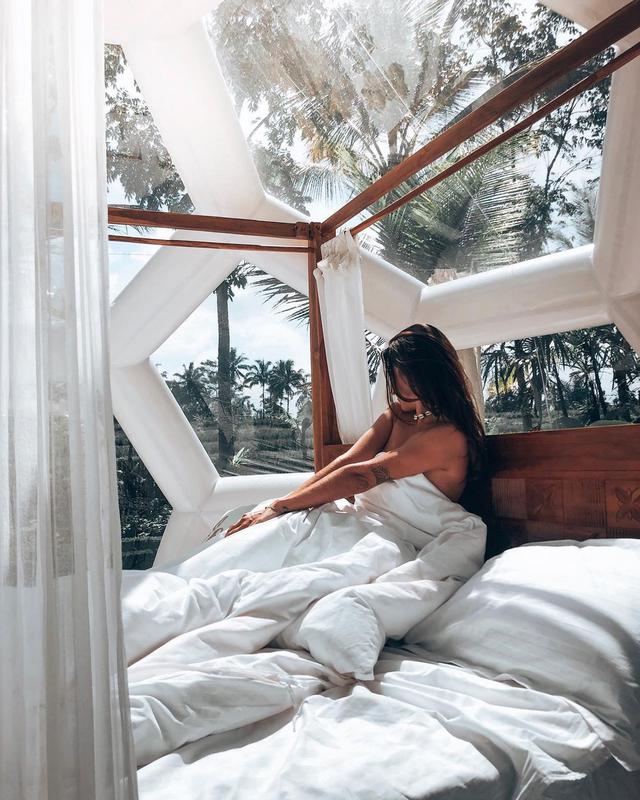 Photo by @gipsystraveleverywhere
Escape from the hustle and bustle of the city life, with a stay at Jungle Bubble Lodge, a stunning bubble accommodation with jungle setting located between the rice field and river gorge in Gianyar. Each bubble dome is stylishly decorated with free WiFi access and offers 180° transparent walls to see the beautiful stars at night and immerse yourself in the wild surroundings.
JUNGLE BUBBLE LODGE
Jalan Subak Puhu ,Desa Puhu, Payangan , Gianyar , Bali, 80572
- Google Maps
10

La Tenda Glamping Canggu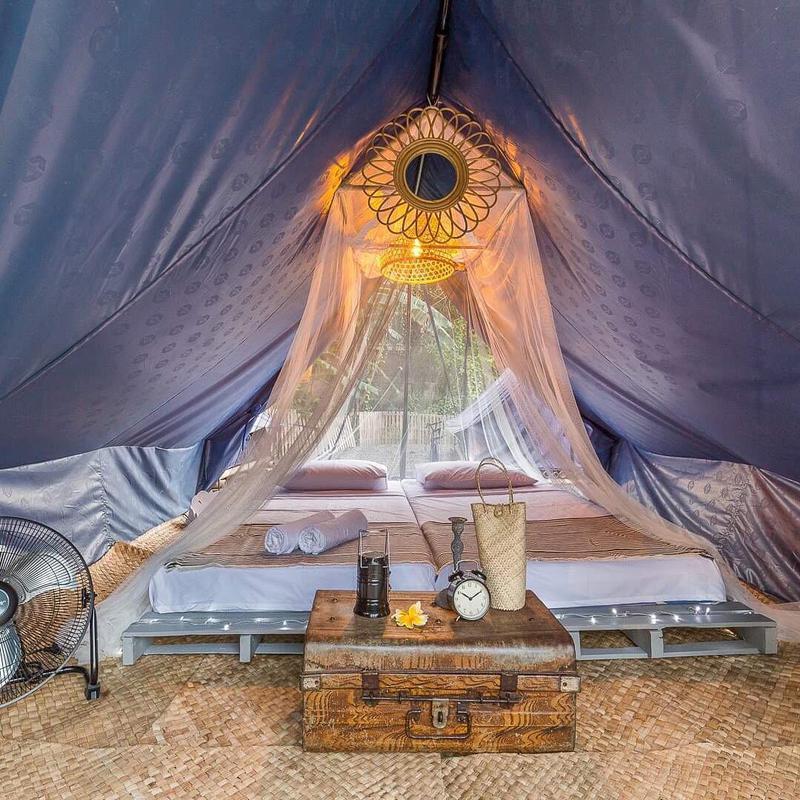 Photo by @latenda.bali
If you crave for stylish vacation yet loving the idea of camping, go to La Tenda Glamping Canggu. It is where people camp in a glamorous way. As you enter the venue, some tents are set side by side yet keeping some space for privacy.
LA TENDA GLAMPING CANGGU
Jl. Bolong Catu No.5, Tibubeneng, Badung, Bali
- Google Maps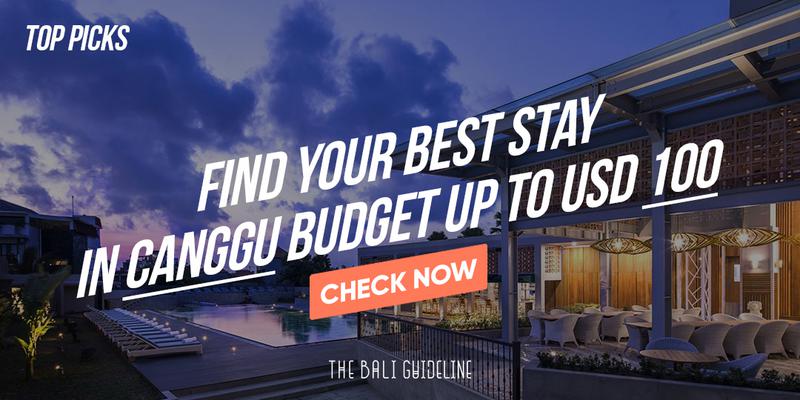 ---