Bringing communities together to create an ideal society that embraces sharing and caring, Roomates Canggu transcends the traditional concept of a hostel. With its stylish rooms, attractive facilities, and prime location in the vibrant heart of Canggu, this trendy hostel is a haven for solo adventurers, couples in need of a romantic escape, and groups of friends seeking an unforgettable vacation. Get ready to uncover this enchanting gem in Canggu as you dive into the enticing details below.
Background and Style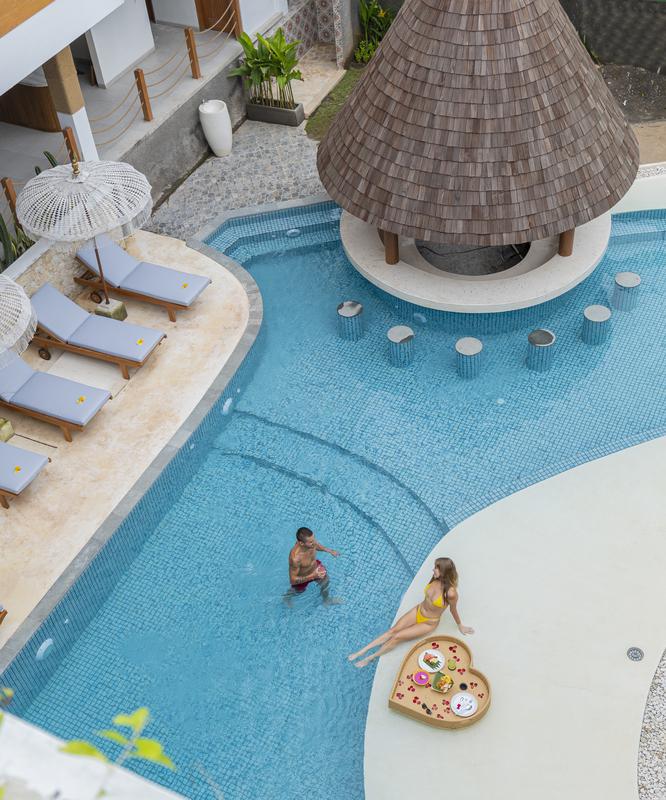 Part of Ini Vie Hospitality, Roomates Canggu stands out as one of the top hostels in Bali. It combines unique artistic design with a sleek and captivating ambiance, creating an unforgettable experience for guests. With four room options, including the stylish Canggu double or twin room and the cozy bunk beds in our mixed and female dormitories, there's something for everyone.
But that's not all! Roomates Canggu takes it to the next level with an awesome coworking space, Workmates. Get productive while surrounded by fellow digital nomads and creative minds. And when it's time to chill, the indoor section, restaurant, and rooftop jacuzzi are perfect for relaxation and connection. Join weekly yoga sessions and daily activities for added enjoyment.
Location
Nestled in the vibrant heart of Canggu, Roomates Canggu is a remarkable haven that ticks all the boxes. Just a short 15-minute walk away, discover the beauty of Batu Bolong Beach and Canggu Beach, making it an ideal destination for beach lovers and surf seekers. With its unbeatable proximity to multiple beach clubs and pristine sandy shores, you couldn't ask for a better location to soak up the sun and enjoy the laid-back beach vibes.
Rooms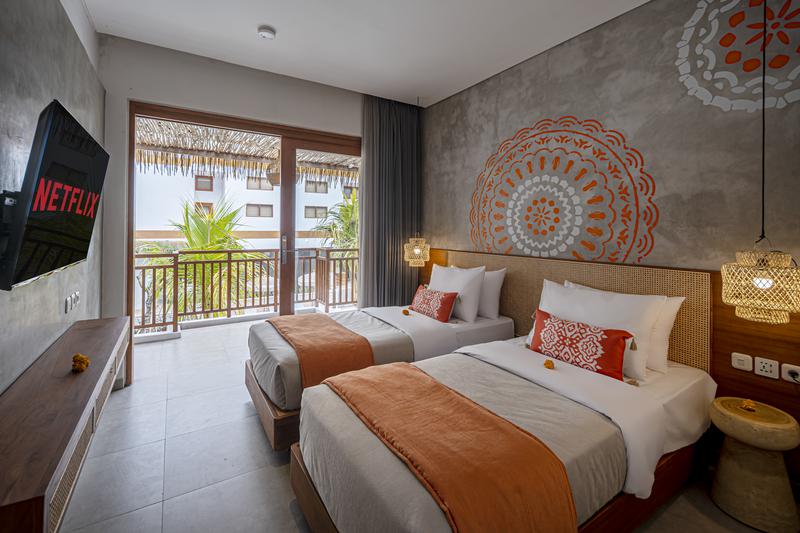 Indulge in the stylish and unique accommodations at Roomates Canggu. Designed with artistic concepts in mind, the rooms offer a true reflection of modern aesthetics and comfort. With a selection of four room types, your stay at Roomates Canggu promises a truly exceptional experience.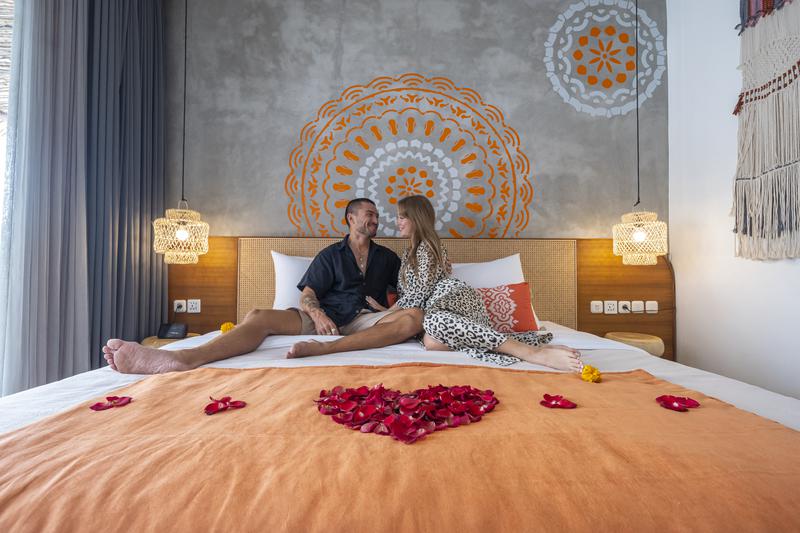 The Canggu room provides a spacious and trendy setting for your stay, complete with a king-size bed, a flat-screen TV with Netflix, a private bathroom, and a balcony. It's the ultimate choice for those seeking both comfort and style.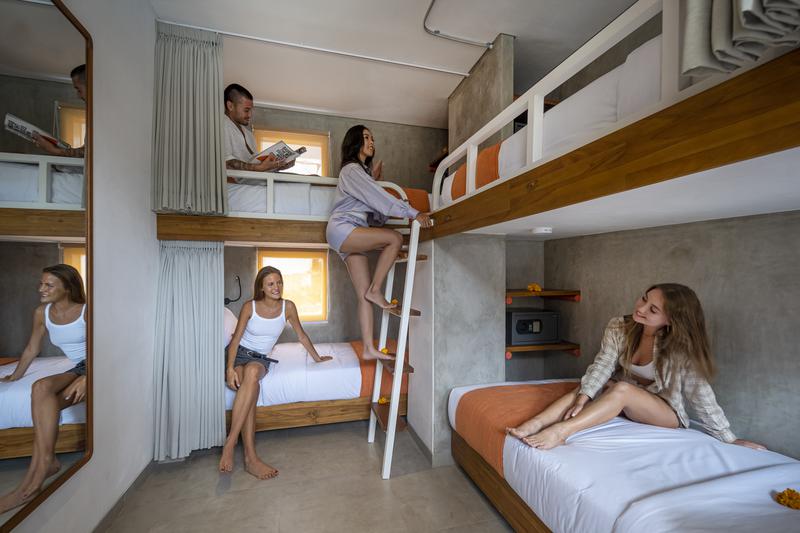 For a more social and cost-effective option, the mixed and female dormitory rooms are ideal. They offer bunk beds with air conditioning for a comfortable and restful sleep. Each dormitory room includes complimentary toiletries and a safety deposit box, ensuring convenience and security during your stay.
Facilities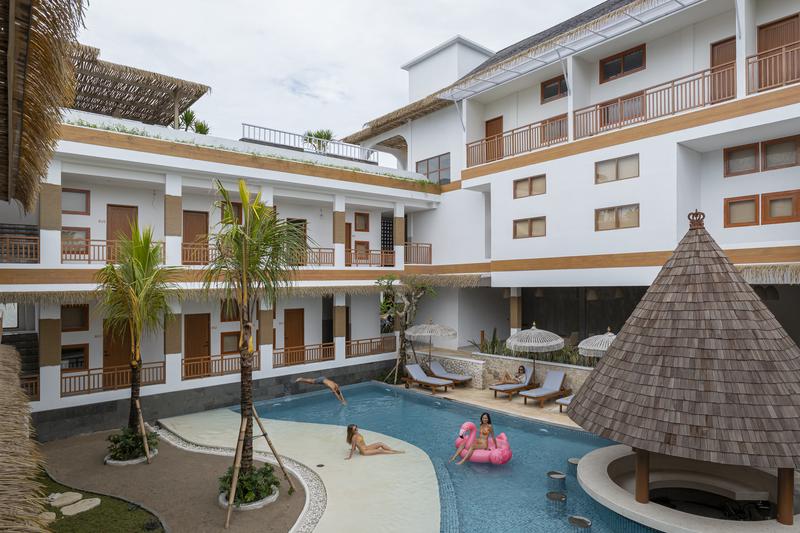 Roomates Canggu has it all when it comes to amazing amenities. Workmates, the awesome coworking space, provides WiFi and private room cubicles for a productive work environment. And when it's time to unwind, head to the inviting swimming pool and pool bar, where you can sip refreshing drinks, make new friends and and bask in the sunshine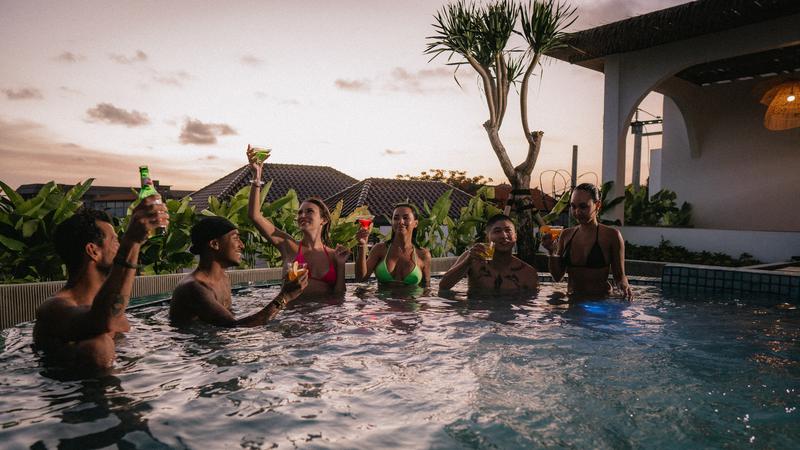 Elsewhere, soak up your worries and lay back in the jacuzzi - the perfect way to add a little extravagance to your stay. The hostel also boasts a Yoga Rooftop Venue where you can find inner peace and feel the tropical breeze of Canggu. Don't miss out on the exciting weekly activities, including yoga sessions, movie nights, beach clean-ups, and a lively foam party.
Verdict
Roomates Canggu is the ultimate haven for budget travelers who want an exceptional dormitory experience with incredible facilities. With its ever-growing popularity among visitors, this hostel shines as the perfect place to connect with fellow explorers. Get ready to fully immerse yourself in the tropical vibes of Canggu and embrace the authentic island lifestyle, look no further than the best hostel on the Island - Roomates Canggu
ROOMATES HOSTEL CANGGU BY INI VIE HOSPITALITY
Jl. Pantai Batu Bolong Gg. Bonton No.8x, Canggu
- Google Maps
Book Now
---