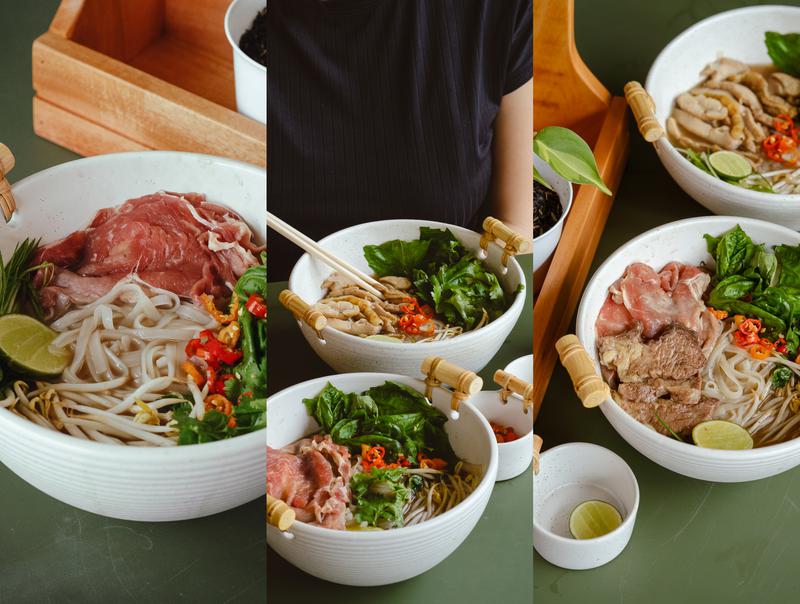 When it comes to comfort food, nothing beats a steaming bowl of pho. This Vietnamese noodle soup is the ultimate addiction and is sure to warm you up from the inside out. Their hearty bowls are loaded with tender beef slices, delicious broth, rice noodles, and spices like cinnamon and star anise, and a hint of lime. Trust us, this is not your average Pho. So, if you're looking for the perfect place to satisfy your pho cravings in Bali, you've found it!
The Food
Pho Mo focuses on the delicious Vietnamese noodle soup, Pho. They offer three different sizes of their delicious pho: small, medium, and medium+meatup.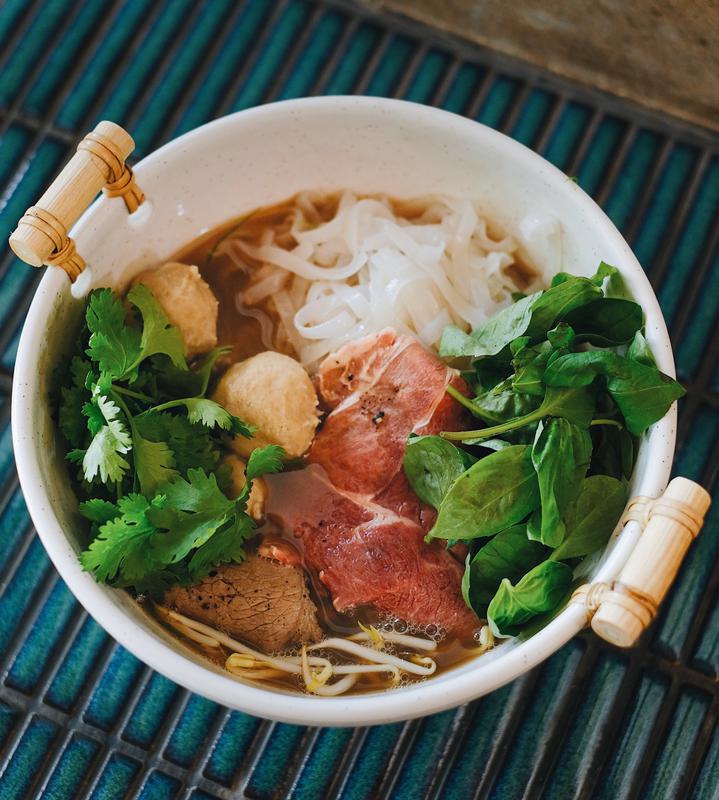 We tried the medium+meatup beef pho and it was a real treat! The bowl was brimming with rare beef, beef brisket, and beef balls all soaked in a delicious rich soup. Each proteinaceous component of the dish was amazing with the beef being super tender, the brisket well-cooked, and the balls just the right texture. The broth was simply amazing, boasting a deep, complex flavor that was rich in collagen, making it stand out from the crowd.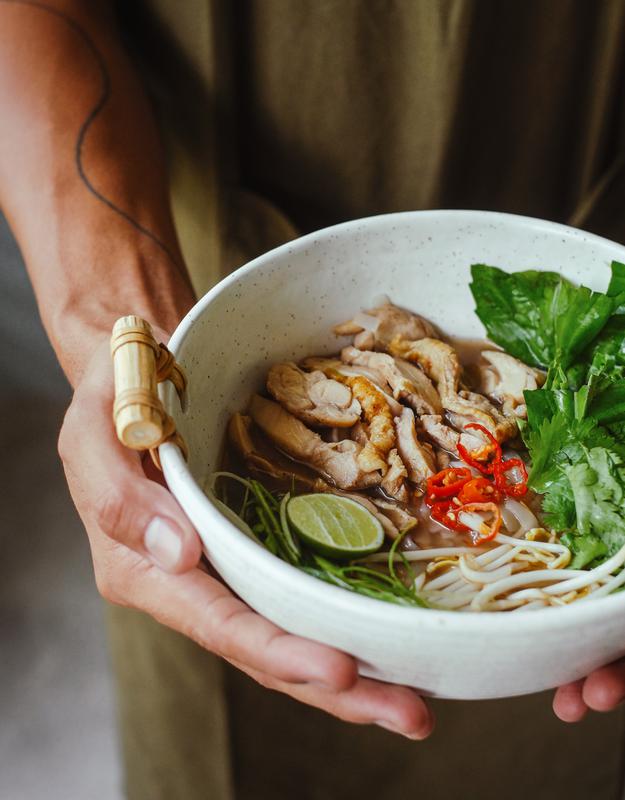 For those who prefer chicken, the aromatic Pho Ga (Chicken Pho) is a delicious alternative. We highly recommend the steam sesame chicken with rice noodles and add an extra perfectly cooked onsen egg, all drenched in a mouth-watering broth that's full of flavor.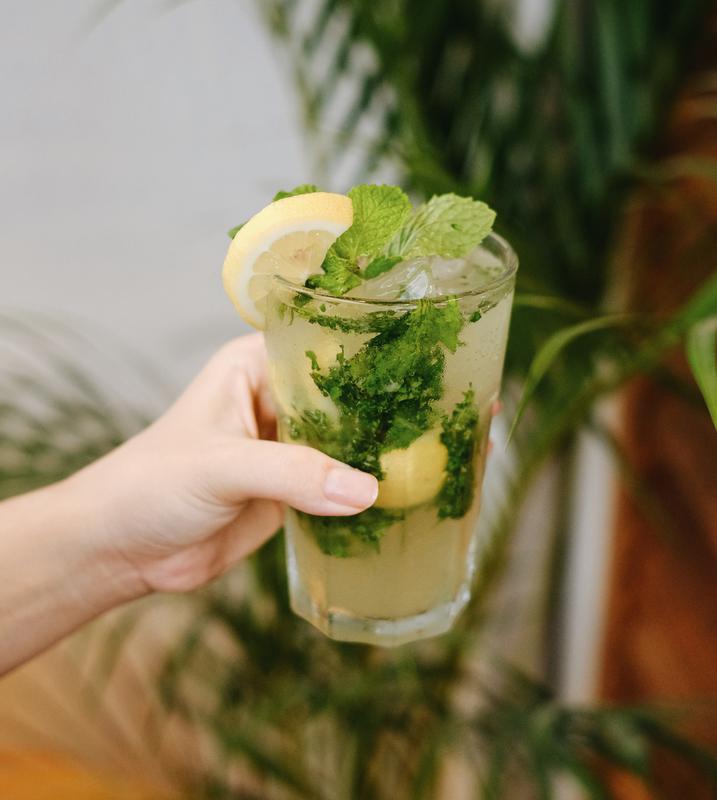 And don't forget to quench your thirst with their popular Chanh Muoi! It's a delightful mix of fresh mint, lemon wedges, lime syrup, and sprite. Sip on this refreshing drink and you'll be ready for more delicious Pho Mo dishes in no time!
The Space and Service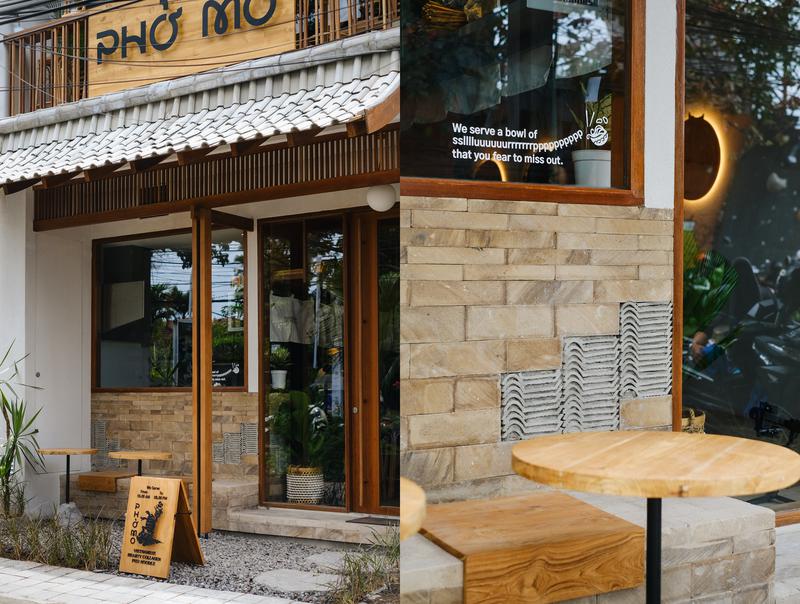 Located in the vibrant Berawa Area - home to some of Bali's hottest cafes, bars, and restaurants, you'll find the cool two-story building of Pho Mo Berawa, conveniently located next to L'osteria Canggu.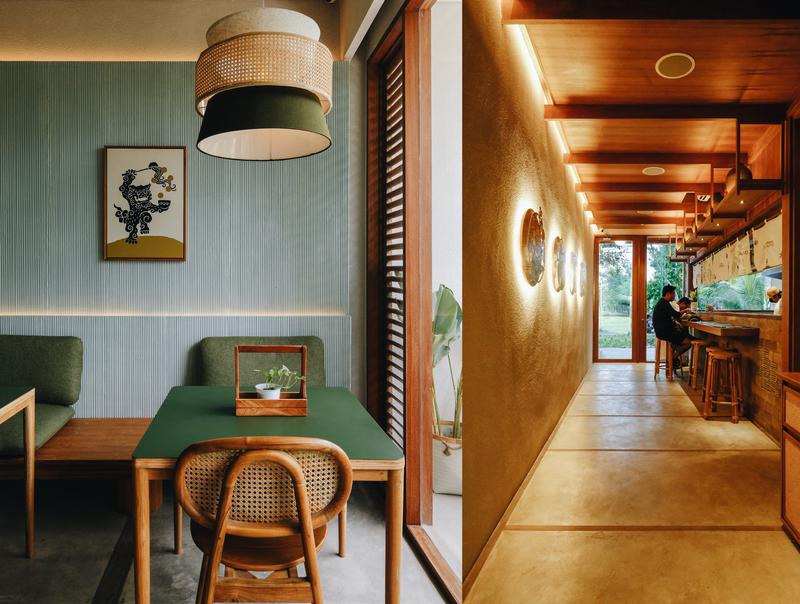 Step inside and you'll be greeted by a chic and modern interior that boasts a palette of sage, green, brown, and furnished with natural rattan chairs and plush green sofa, creating a relaxed and casual atmosphere. And if you feel like soaking up some sun, they've got outdoor seating too.
Additionally, the staff at this place were so friendly and welcoming. Despite the restaurant reaching 80% capacity, our food was promptly delivered to our table within 15 minutes of ordering.
The Verdict
Pho Mo Berawa is the place to be if you love Pho.Their broth is bursting with flavor, enriched with collagen, and boasts a perfect balance of savory and sweet notes.
If you're in the mood for meat, you've got to try their best-selling medium rare Beef Pho, loaded with additional US Brisket and Meatballs, or their aromatic Vietnamese Chicken Pho, known as Pho Ga. Trust us, it's a must-visit spot for anyone who loves a good bowl of Pho.
Things We Love
The broth is flavourful, rich with collagen and has a perfect balance taste of saltiness and sweetness
Premium Rib Eye Beef and US Brisket
Chic and relaxing atmosphere
---