Open kitchens are all the rage these days, but the Japanese have long been ahead of the game when it comes to the theatrics of interactive dining. From flying food, blazing meats and unbelievable attraction from the talented chefs, the best teppanyaki in Bali has it all. For the love of Japanese cuisine, here's the list of restaurants specializing in teppanyaki dishes that are both tasty, beautifully arranged, and of course, worth your visit!
1

Rayjin Teppanyaki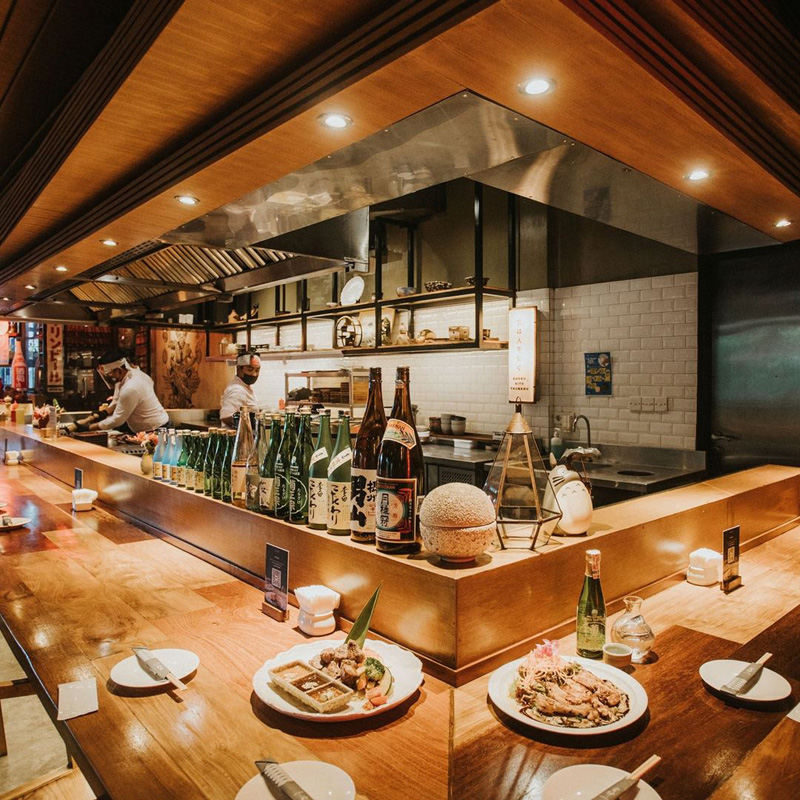 Photo by @rayjinbali
Experience the best Japan has to offer at Rayjin, one of the most versatile Teppanyaki restaurants on the island. Situated in the heart of Petitenget's hustle and bustle, Rayjin Teppanyaki & Dining Bar has been serving delicious fusion Japanese Teppanyaki straight from the heart.
Their design aims to create a fun and energetic dining experience with the spirit to entertain guests wholeheartedly. Guests will be welcomed with Japanese greetings by the time they walk in. Rayjin is also known for its simple-yet-modern approach to our open kitchen concept, adding distinctive touches of Japanese culture that allow guests to look at what is happening as their food is being prepared.
RAYJIN TEPPANYAKI
Jl. Petitenget No.98x, Petitenget
- Google Maps

Opening Hours : 12.00 - 21.30

Price :

Average Spending - Approx IDR 275,000 ++ /person
2

Shichirin Ubud by Ini Vie Hospitality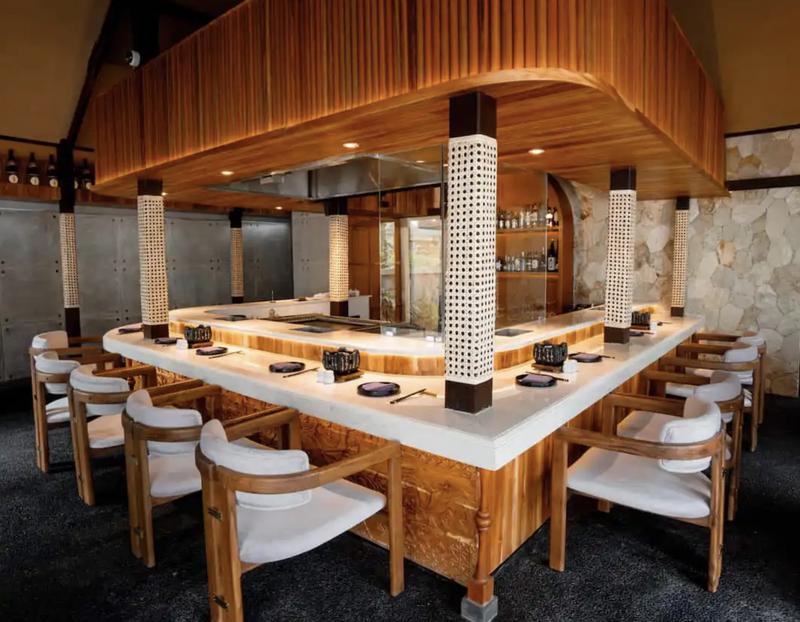 Photo by @shichirinbali
Looking for an unforgettable teppanyaki experience in Ubud? Look no further than Shichirin Ubud by Ini Vie Hospitality! Located in the heart of central Ubud, this Konro Grill and Teppanyaki Restaurant offers a premium dining experience with high-quality ingredients. Open daily from Monday to Sunday, prepare to be amazed as the talented chefs skillfully display their captivating hibachi fire cooking techniques right before your eyes. Indulge in mouthwatering specialties, including the irresistible Black Cod Fish with Saikyoyaki Miso Sauce, refreshing Daikon Salad, zesty Lemon Torch, tantalizing Gyu Katsu with three delectable dipping sauces, and a fresh sashimi set. Book in advance and reserve a seat at the minimalist blonde wood teppanyaki counter
SHICHIRIN UBUD BY INI VIE HOSPITALITY
Jl. Bisma No.888x, Ubud

Opening Hours : Monday - Thursday 16:00 - 23:00, Friday - Sunday 12:00-23:00

Price :

Average Spending - Approx IDR 600,000++ /person
Book Now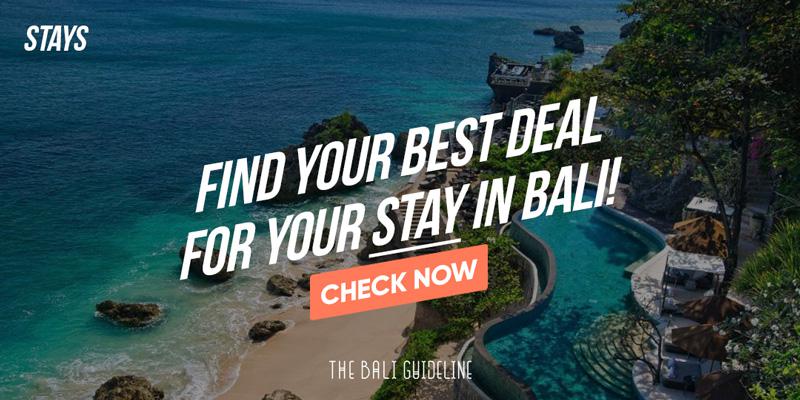 3

Edogin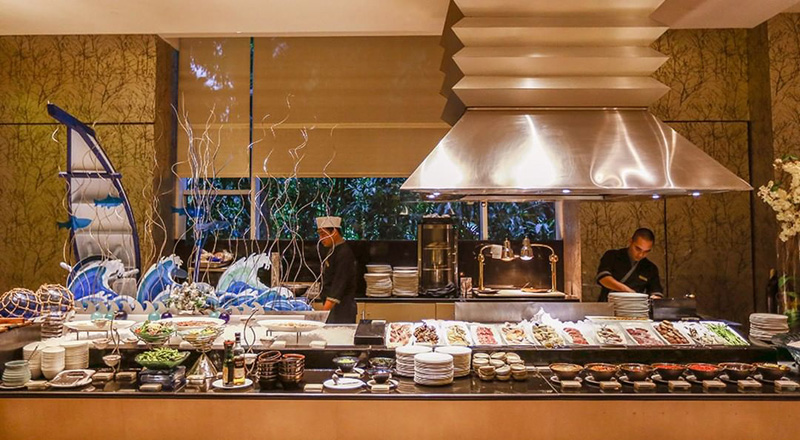 Photo by @muliadining
Chunks of sizzling meat on the teppan? Ok, we're SOLD. The sleek, contemporary Edogin restaurant offers the perfect backdrop to indulge in delectable Japanese cuisine for sushi and sashimi aficionados and a welcome dining experience of live Teppanyaki over the open kitchen.
Staying true to the roots of Japanese culinary philosophy, Edogin commits to showcasing the best ingredients to your table. Each element is sourced both locally and from around the globe to be presented in a selection of authentic recipes. Served with perfection and attention to detail with fresh ingredients imported daily, Edogin presents a wide and rich variety of menu options from traditional to robatayaki.
EDOGIN
Mulia Bali Resort, Jl. Nusa Dua
- Google Maps

Opening Hours : 18.00 - 23.00

Price :

Average Spending - Approx IDR 800,000++ /person
4

Shima Teppanyaki & Shabu Shabu

Photo by @shima.teppanyakishabushabu
A modern venue conveniently located in Petitenget, Shima provides the ultimate Japanese cuisine dining with highest quality ingredients prepared by internationally trained chefs. Shima serves premium quality imported Australian beef, Wagyu beef, locally caught fish delivered fresh daily and locally grown vegetables alongside an extensive list of imported and local wines and delicious cocktails.
At Shima, they understand and appreciate the authentic Japanese cooking known as Teppanyaki, creating tasty dishes from the finest and freshest ingredients. Thus, Shima's experienced chefs have mastered the art of entertaining guests through skilled moves and tricks while simultaneously delivering mouthwatering food, cooked to perfection. Our tip: sit by the counter and watch the chefs cook your dishes. The level of finesse and skill here is unparalleled!
SHIMA TEPPANYAKI & SHABU SHABU
Jl. Petitenget No.5E, Petitenget
- Google Maps

Opening Hours : 12.30 - 22.30

Price :

Average Spending - Approx IDR 400,000++ /person
5

Kagura Authentic Japanese Cuisine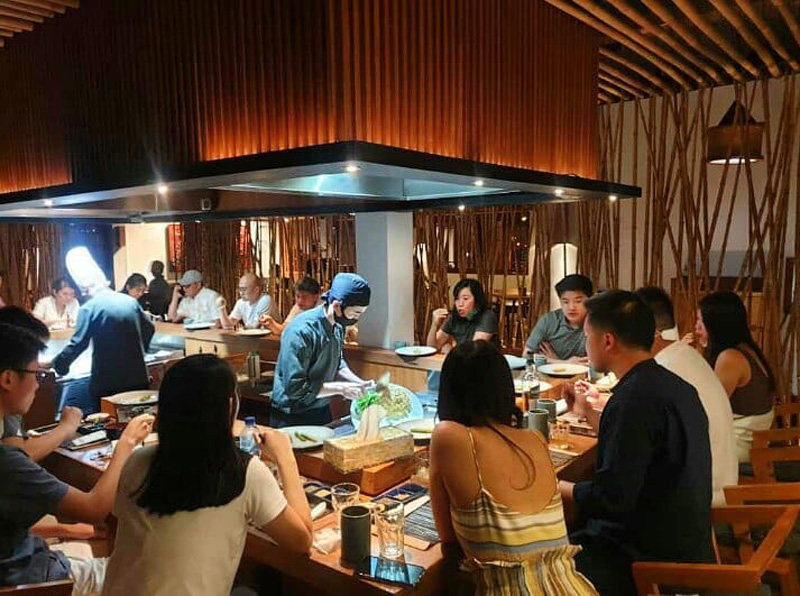 Photo by @kagurajapanese
Hodaka Hidemaro is a familiar name for teppanyaki enthusiasts around Asia for decades. He started cooking at an early age, and moved around the world to master the authentic way of serving beef dishes, teppanyaki, shabu-shabu, hot stone steak, and yakiniku. Besides his popularity as an authentic Japanese chef among Jakarta's elite, Hodaka-san also has a few decades of experience in managing restaurants.
Kagura Authentic Japanese Cuisine is currently his relatively new project in Nusa dua, Bali. Located in the complex of the Indonesian Tourism Development Center, Hodaka-san is creating an authentic Tokyo style fine dining restaurant. The menu at Kagura has a wide range of selection, such as high quality Angus Beef 7+ and extensive seafood options. This means you can expect your Japanese culinary dream to be brought to reality!
KAGURA AUTHENTIC JAPANESE CUISINE
Kenja Building, Jl. Raya Nusa Dua Selatan
- Google Maps

Opening Hours : 12.00 - 21.00

Price :

Average Spending - Approx IDR 650,000++ /person
6

Nagisa Izakaya Bali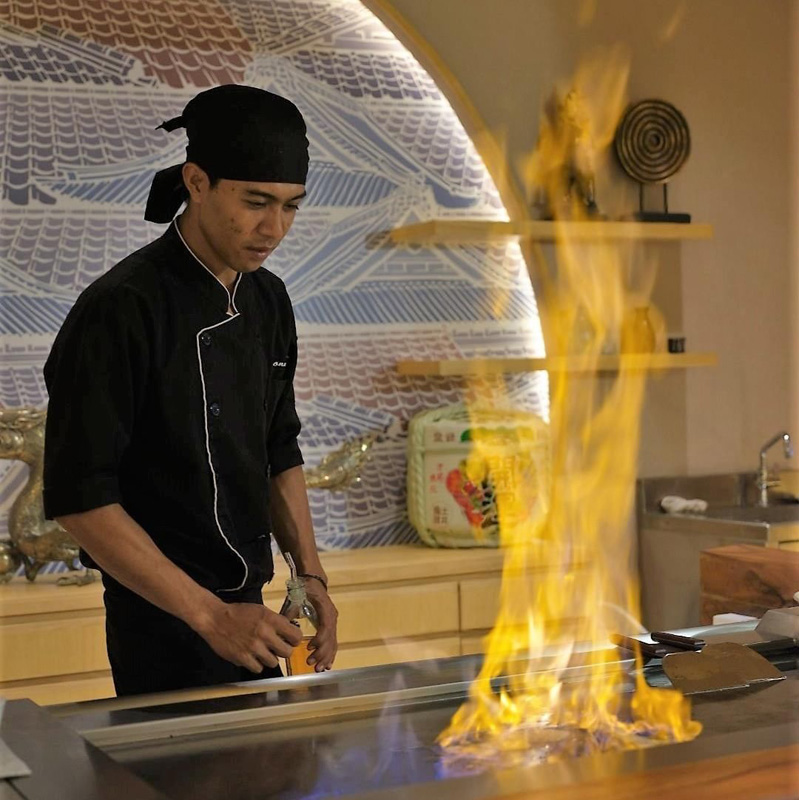 Photo by @nagisaizakayabali
An authentic Japanese izakaya experience with a cozy and relaxed ambiance that is perfect for casual dining and drinks. Their robatayaki & teppanyaki counter is a must-try for an ultimate Japanese culinary experience! But first off, a delightfully cold beverage is definitely recommended to start the night, as izakaya is known as "Japanese pubs".
Oh well, did someone say sake? Nagisa is led by Chef Katsumi Goda, a native born and trained Japanese Chef with over 40 years of experience across Asia, USA, and South Africa. He specializes in Japanese cuisine and mastered an extensive range of Japanese delicacies. Together with his talented culinary brigade, Chef Goda brings you the true Japanese taste, of course, Izakaya-style.
NAGISA IZAKAYA BALI
Hotel Nikko Bali Benoa Beach, Jalan Pratama No.68X Tanjung Benoa, Nusa Dua
- Google Maps

Opening Hours : Wednesday-Sunday 11.00 - 21.00

Price :

Average Spending - Approx IDR 650,000++ /person
7

Honzen Bali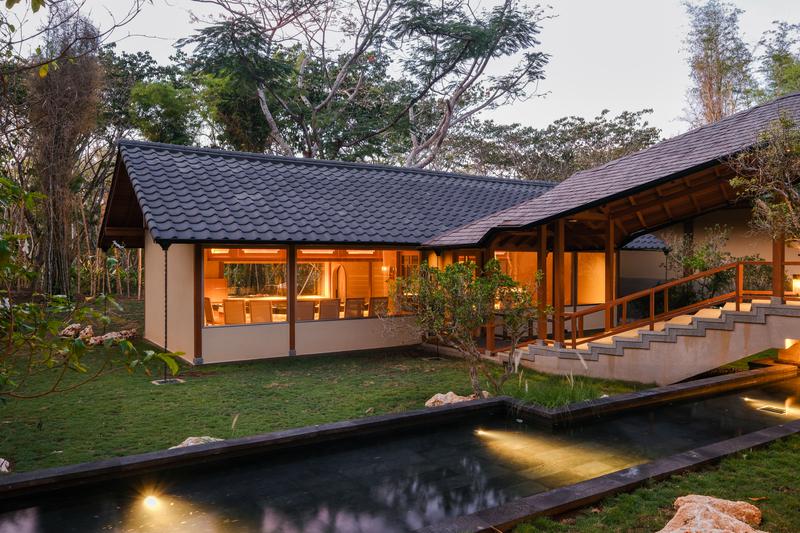 Photo by @honzen.bali
Let the teppanyaki party begin at HonZEN, Ayana Resort & Spa, Jimbaran, Bali. Using market-fresh produce, locally-sourced seafood and premium imported meats grade 9+, this upscale restaurant offers a huge selection of the finest ingredients for the essential teppanyaki experience.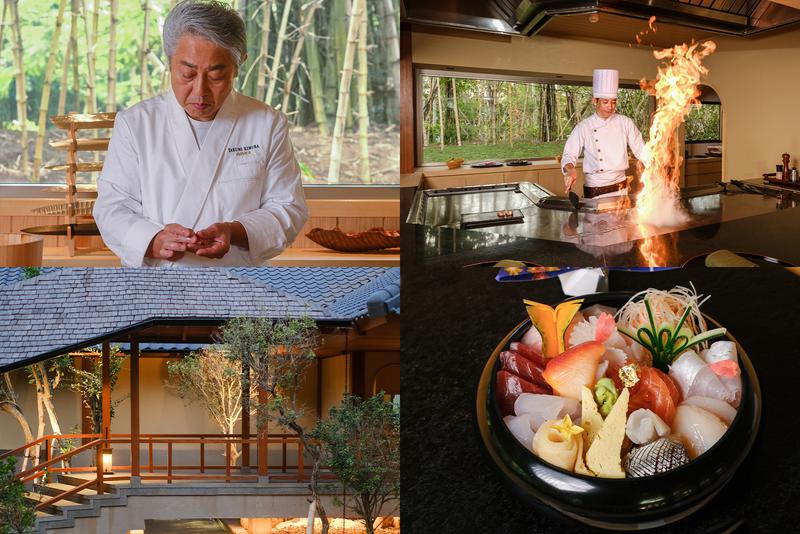 Pro tip: for the best value, order the teppanyaki omakase course includes salad, fresh sashimi, foie gras, choice of imported wagyu beef or seafood, garlic rice, dessert and coffee or tea.
HONZEN BALI
AYANA Resort and Spa, BALI, Jl. Karang Mas, Jimbaran
- Google Maps

Opening Hours : Monday - Friday 17.00 - 22.00 | Saturday - Sunday 11.30 -14.30 and 17.30 - 22.00

Price :

Average Spending - Approx IDR 1,400,000++ /person
8

Nampu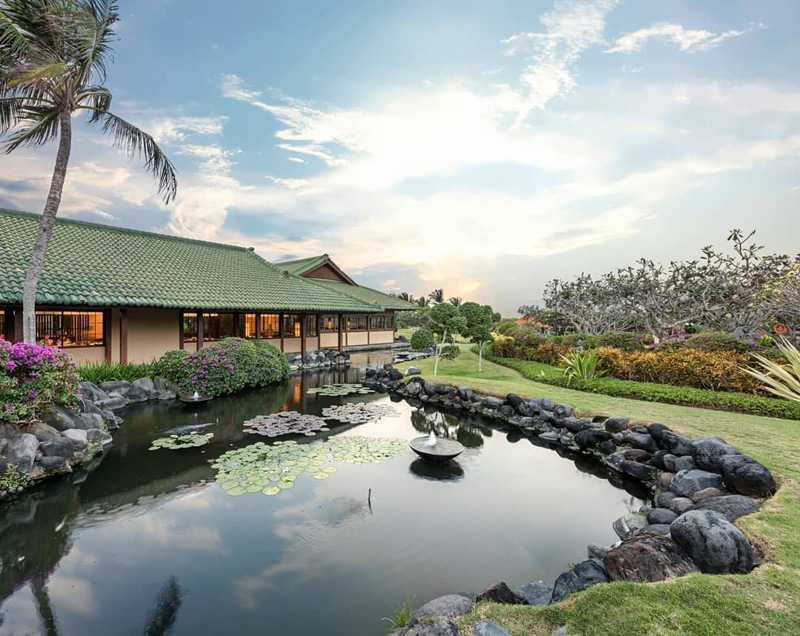 Photo by @thirtysixshots.architecture
Head to Nampu at Grand Hyatt Bali to enjoy authentic teppanyaki cuisine in Nusa Dua. What you'll get here is the chef's fine selection of teppanyaki sections and a sushi bar. Serving authentic Japanese cuisine in a completely serene ambiance, Nampu offers a variety of dining experiences, including a Teppanyaki room and the main dining room, which serves fresh sushi, sashimi, yakitori and tempura, as well as Tatami room for private dining.
Sit by the counter and you'll get to admire the chef's performance as he grills your food on the teppanyaki right before your eyes! To end your memorable dining experience, discover their extensive choices of mouthwatering dessert which serves green tea mousses, matcha green tea & young coconut mousse, tofu ginger cheesecake and more selection of seasonal fruits and homemade gelato.
NAMPU
Grand Hyatt Bali Kawasan Wisata Nusa Dua
- Google Maps

Opening Hours : Friday - Sunday 17.30 - 21.30

Price :

Average Spending - Approx IDR 1,000,000 ++ /person
9

Tenkai Japanese Restaurant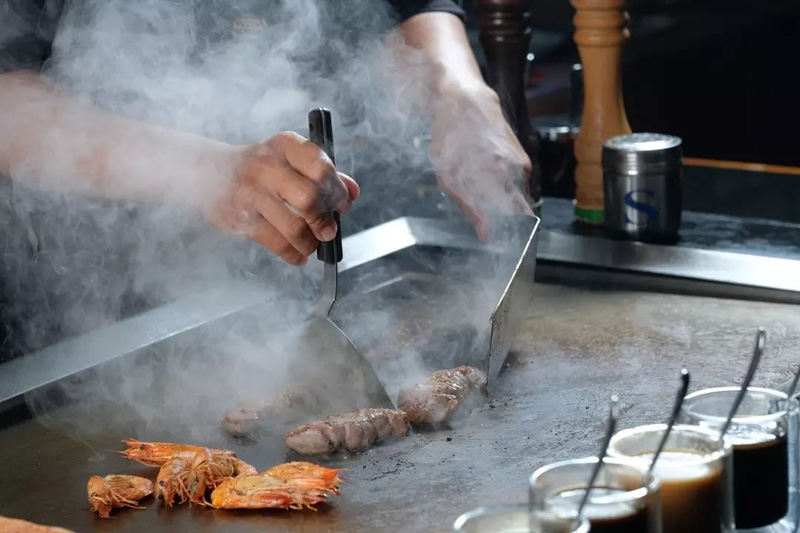 Photo by @padmalegian
Located at Padma Resort Legian, Tenkai is a traditional Japanese dining experience that includes a Japanese buffet dinner with a wide range of comfort food from sushi, sashimi, bento box and the exquisite multi-course Kaiseki menu from the land of the rising sun.
With authentic Japanese cuisine created by Tenkai's acclaimed executive Japanese chef Masahiko Morikawa, be prepared for a delightful show for both your mouth and eyes with the artful cooking over the flat teppan surface.
TENKAI JAPANESE RESTAURANT
Jl. Padma No.1, Legian
- Google Maps

Opening Hours : 6 PM - 10:30 PM

Price :

Average Spending - Approx IDR 450,000++ /person
10

Ko Japanese Restaurant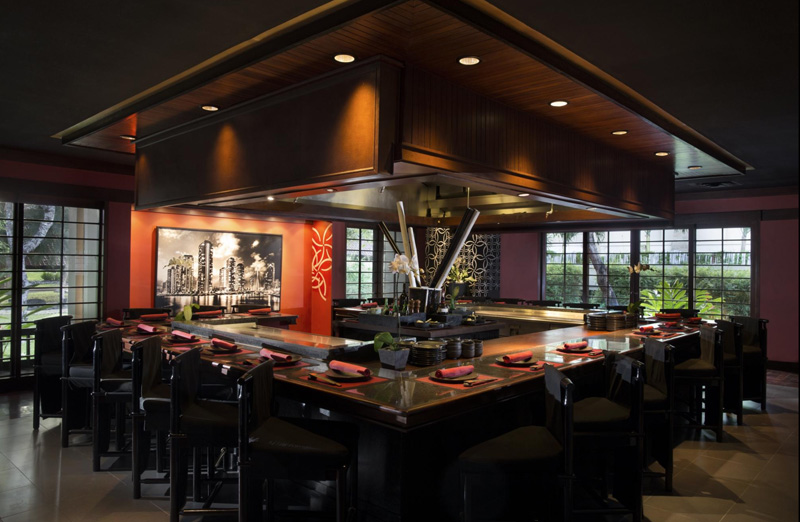 Photo by @intercontinentalbaliresort
Located at Intercontinental Bali Resort, this oldie but goodie award-winning restaurant prides itself on its authentic Japanese cuisine that combines elements of legendary Japanese art and culture with up-to-date flavors. Currently open for dinner only, KO Restaurant & Cocktail Lounge offers a unique take on the classic teppanyaki restaurant we know and love, combining traditional Japanese cuisine with the freshness of local and international products. This stunning destination is accessible via an open-air walkway, which overlooks a stunning Japanese garden. It is truly everything you need in one beautiful, luxe space.
KO JAPANESE RESTAURANT
Jl. Raya Uluwatu No.45, Jimbaran
- Google Maps

Opening Hours : 6:30 PM - 10 PM

Price :

Average Spending - Approx IDR 980,000++ /person
11

Bluefin Japanese Fusion & Lounge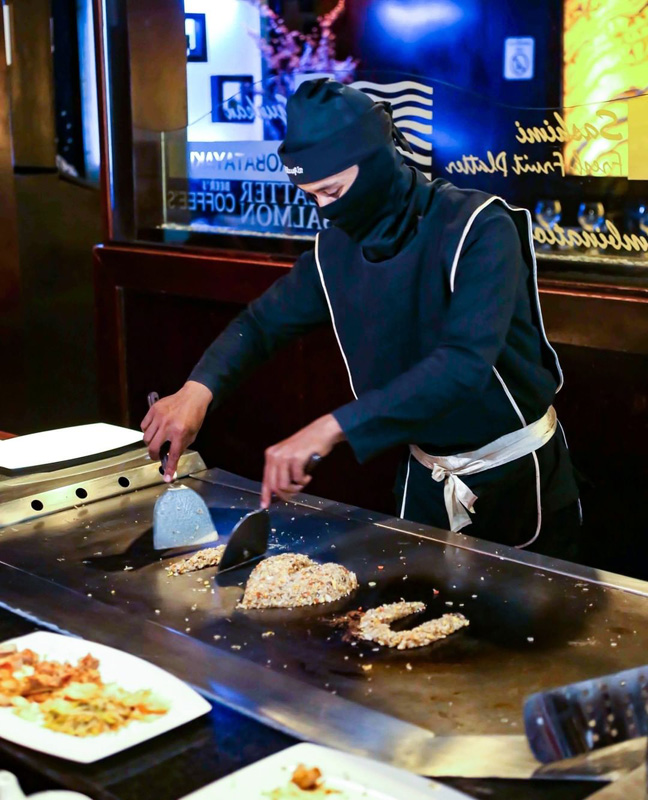 Photo by @bluefinbali
Not only a humble teppanyaki restaurant, Bluefin Japanese Fusion and Lounge also offers scrumptious sushi, sashimi, noodles and robatayaki for you and your loved ones to enjoy. This means you can expect all your favorite teppanyaki classics, along with some of the freshest ingredients in town! And as for the interior, it is decorated largely in glass and cool colors with wood floors, exudes a 'modern feel' yet still retains its Japanese restaurant vibes by the sushi bar and two newly revamped Teppanyaki counters by the window overlooking Kuta's ever busy street scene, making the restaurant a great option for special occasions.
BLUEFIN JAPANESE FUSION & LOUNGE
Komplek Kuta Sidewalk, Jl. Kartika Plaza, Kuta
- Google Maps

Opening Hours : 10 AM - 12 AM

Price :

Average Spending - Approx IDR 500,000++ /person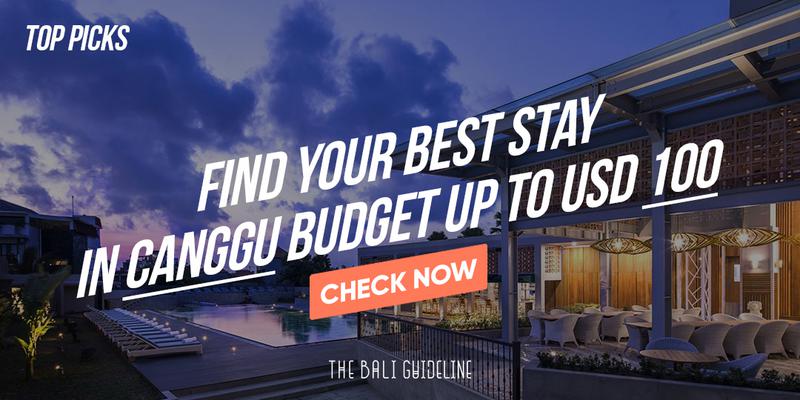 ---