Bali is a remarkable destination, home to dazzling beaches , magical temples, beautiful rice fields and natural wonders. As the Island is also well known for its wellness, healthy food scene , green and organic lifestyle, it's no wonder Bali becomes one of the best places for eco-friendly travellers. Check these 11 dreamy eco-friendly hotels for your next Bali holiday getaway. Enjoy!
1

Awan Ubud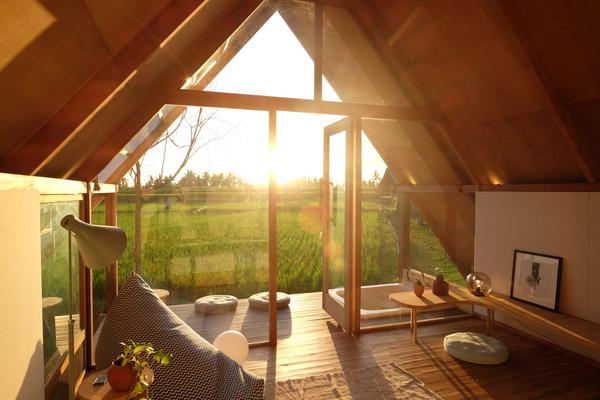 Photo by @awan.ubud
Located only a six-minute drive from Central Ubud, Awan Ubud has unique triangular timber houses, surrounded by beautiful rice fields, features an eco-friendly design and built by local architects, using all local materials.
Each hut offers comfort in a minimalist interior setting with a hot tub, private rice fields view and natural ventilation. Immerse yourself in one of their fabulous little huts that will give you peace of mind and relax in the natural tranquility.
AWAN UBUD
Peliatan, Ubud

Price :

Approximately USD 55 /room/night
Book Now
2

Mû Bungalows Boutique Resort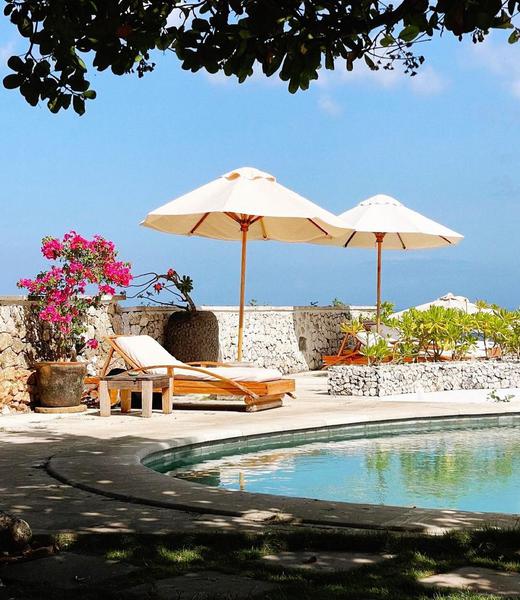 Photo by @madeleineandren
If you are wanting somewhere serene and secluded on the west coast of the Bukit peninsula, then Mû Bungalows Boutique Resort is a great option. This private complex of twelves thatched grass roof houses is designed and styled with the same attention to details using eco-friendly and natural organic recycled materials.
The resort's restaurant overlooks the Indian ocean, where diners can enjoy locally grown and freshly made mouthwatering meals. Additionally, guests can also enjoy yoga or pamper yourself in their beautiful Spa.
MÛ BUNGALOWS BOUTIQUE RESORT
Jl. Pantai Bingin, Pecatu
- Google Maps

Price :

Approximately USD 60 /room/night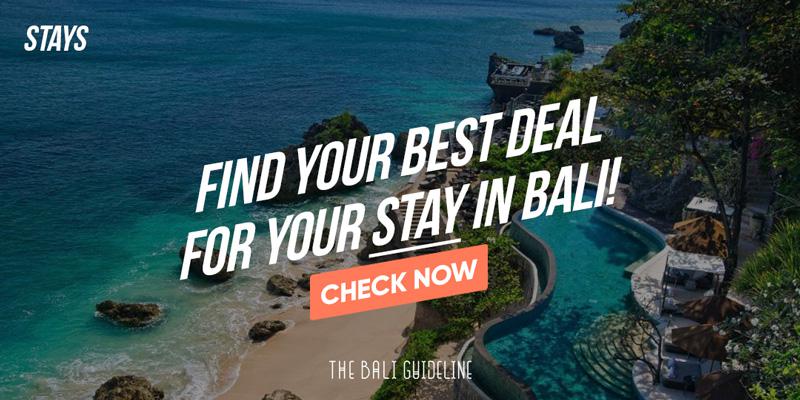 3

Potato Head Studios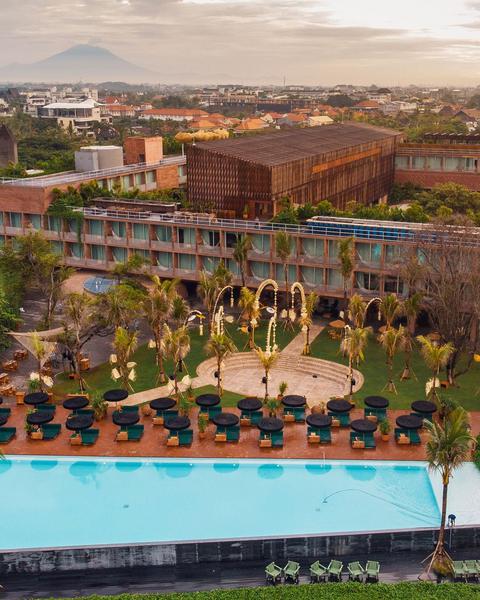 Photo by @potatoheadbali
Part of Desa Potato Head in Seminyak, The Potato Head Studios provide 168 guest rooms which feature planet-friendly furniture and amenities made from recycled plastics and materials conceptualised by Max Lamb and Faye Toogood, whose work is brought to life by Balinese artisans using indigenous materials and techniques.
The focus is on sustainability, anyone checking into the resort will receive a zero-waste kit complete with a water bottle, RPET tote bag, bamboo straw and essentials such as refillable sunder, after-sun care and insect repellent.
POTATO HEAD STUDIOS
Jl. Petitenget No.51B, Seminyak

Price :

Approximately USD 170/room/night

IDR

4,316,000

(USD

282

) / room / night
Book via

4

La Cabane Bali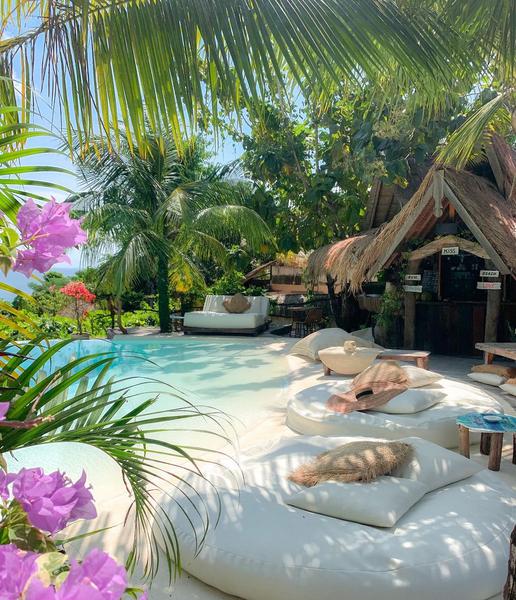 Photo by @lacabanebali
Nestled into the lush hillside overlooking picturesque cliffs at Balangan, La Cabane is an intimate eco chic boutique hotel on a peaceful southern tip of Bali with all modern comforts.
The hotel comprises of 5 eco friendly Bungalows and a 3 Bedrooms Villa with private pool built with the utmost respect for the Balinese architecture, in perfect harmony with the natural setting where you can enjoy the gentle Indian Ocean breeze.
LA CABANE BALI
Jl. Pantai Balangan No.54, Jimbaran

Price :

Approximately USD 60/room/night

IDR

2,827,000

(USD

185

) / room / night
Book via

5

Fivelements Retreat Bali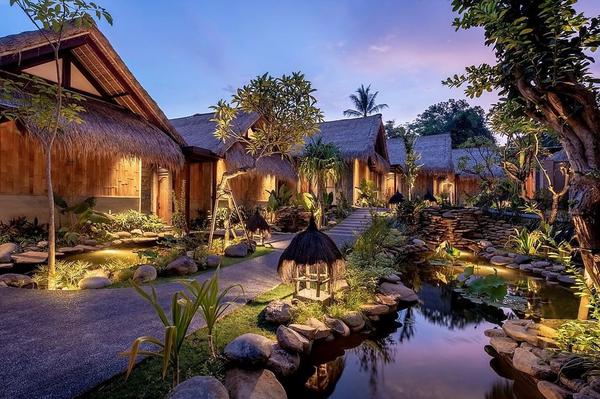 Photo by @fivelementsretreats
An award-winning eco-conscious wellness retreat with an authentic Ubud experience, Fivelements Retreat Bali offers yoga, plant-based cuisine and wellness retreats, which are a complete healing journey for mind, body and spirit.
Surrounded by beautiful nature, you can stay in one of twenty luxurious eco-friendly bamboo suites overlooking the Ayung River and spend your relaxing days in nature wonderland.
FIVELEMENTS RETREAT BALI
Mambal, Abiansemal, Badung

Price :

Approximately USD 150 /room/night

IDR

4,637,000

(USD

303

) / room / night
Book via

6

Mana Earthly Paradise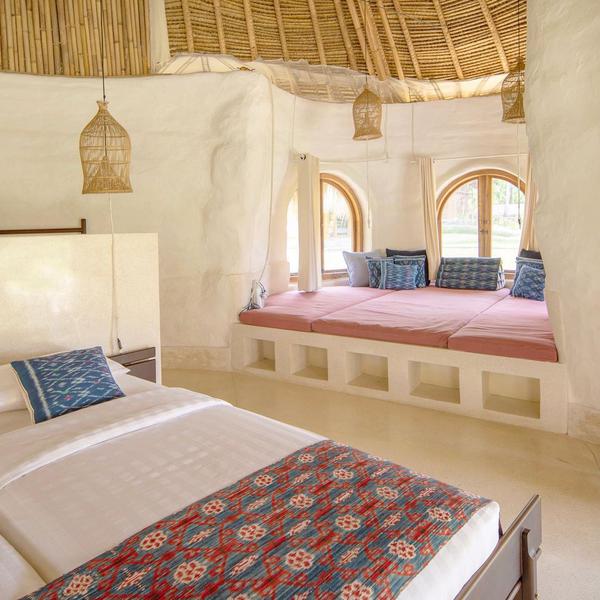 Photo by @manaubud
Mana Earthly Paradise is a combination of luxury and sustainability. Set in Ubud's heartland, this eco resort enables you to reconnect with an urban soul to nature. The buildings combine elements of traditional architecture with hints of minimalism and natural modernity.
The six earth-bag villas are constructed with natural materials, use only solar power for lighting, circulate wastewater, and water-saving toilets, provide environmentally friendly toiletries, and use zero-waste mattresses. The food is made fresh from locally grown food, organic, probiotic and life-nourishing - a fusion of Japanese superfood and Indonesian Cuisine.
MANA EARTHLY PARADISE
Jl. Raya Sayan Banjar Mas, Ubud

Price :

Approximately USD 85 /room/night
Book via

7

Green Escape Eco & Boutique Resort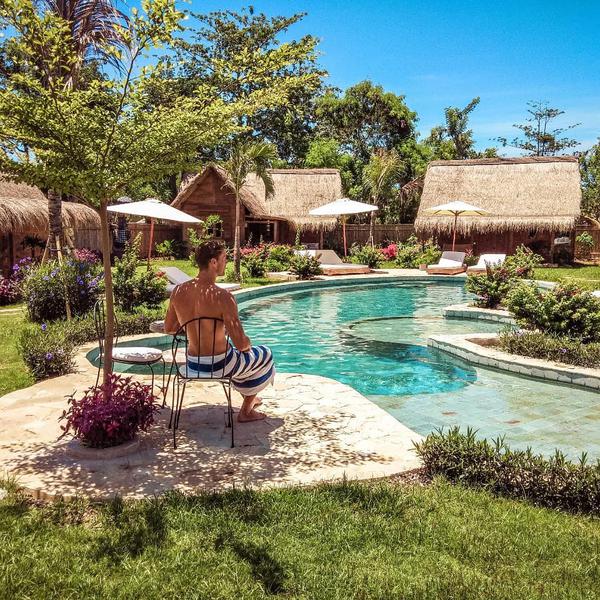 Photo by @green.escape.bali
This intimate tropical hideaway - called Green Escape - is a dreamy setting for a romantic retreat, located within short walking distance to Bingin Beach. The resort offers five unique and elegant bungalows that are all gravitating around the tropical pool.
Built from recycled teak wood and topped with alang-alang and combining comfort with the respect of the Balinese traditions. Enjoy your ideal getaway at this beautiful nature resort.
GREEN ESCAPE ECO & BOUTIQUE RESORT
Jl. Bangbang Metuug, Pecatu, Badung

Price :

Approximately USD 85 /room/night
Book via

8

Sandat Glamping Tents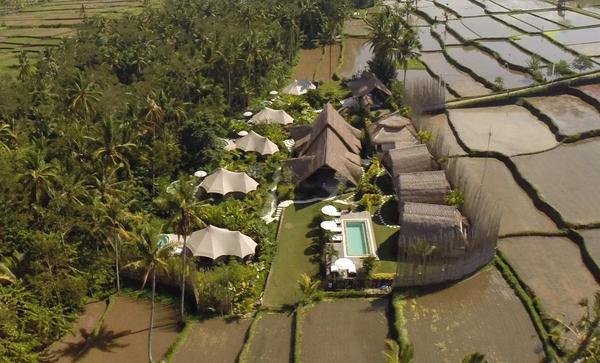 Photo by @glampingsandat
When it comes to luxurious glamping resort with eco-friendly concepts, look no further than Sandat Glamping Tents. Located just 3 km from the centre of Ubud in the luxuriant rice fields, this charming boutique eco glamping resort comes with five luxury tents with private pools and three traditional rice barns were made from imaginative bamboo and thatch structures.
The comfort and the elegance of the furniture and the discreet luxury in trivial details in each accommodation completes the atmosphere, turning the stay at Sandat Glamping a lifetime experience.
SANDAT GLAMPING TENTS
Jalan Subak Sala, Ubud

Price :

Approximately USD 150 /room/night
Book via

9

Roots Tree House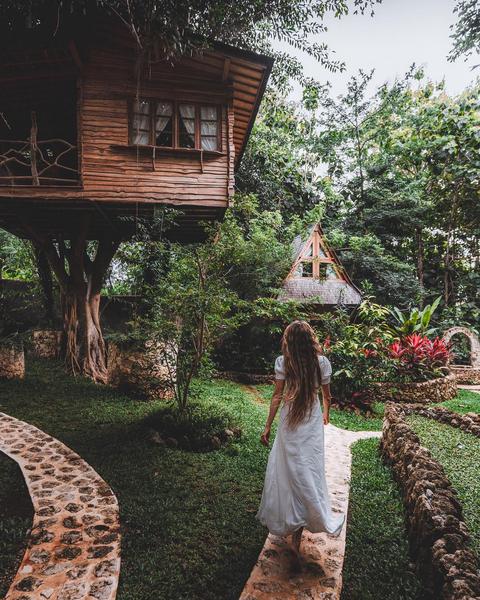 Photo by @wanderskyy
Made of locally sourced and recycled wood, Roots is set in a quiet neighbourhood in Ungasan, close to Uluwatu and other world class surf breaks, beaches, shops, and restaurants. Each house has a private bathroom, hot water, eco-friendly toiletries, comfortable bed, fan and private chill out area.
Let your childhood dreams come true while enjoying the simplicity and beauty of its lovingly crafted tree houses.
ROOTS TREE HOUSE
Ungasan

Price :

Approximately USD 45 /room/night
Book via

10

Sarinbuana Eco Lodge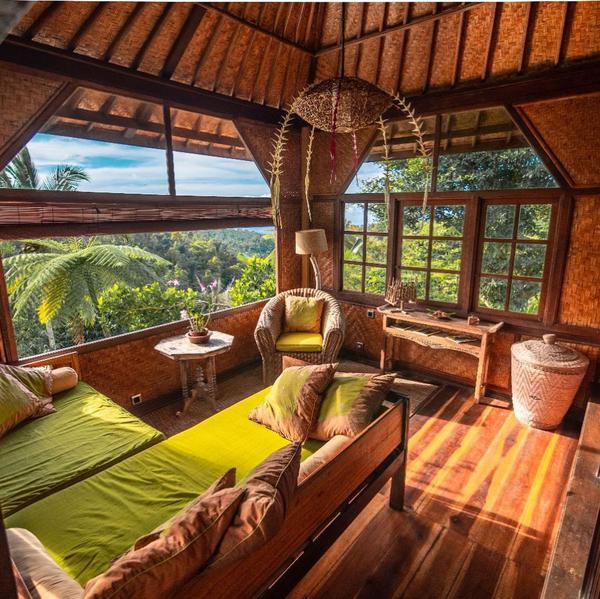 Photo by @baliecolodge
If you like a side of sustainability with your adventures, staying in Sarinbuana Eco Lodge is a great way to reduce your holiday's carbon footprint. This hidden gem is situated on the remote slopes of Mount Batukaru and was constructed using locally sourced material, timbers and bamboo for its furniture and buildings, recycling programs, and serves up delicious local and organic food. With 5 unique and individually designed bungalows , yoga in the Treetops, natural swimming pool, private river pools and waterfalls, this eco lodge is a perfect place to recharge, revive, nurture your health & being.
SARINBUANA ECO LODGE
Jl. Arjuna, Tabanan

Price :

Approximately USD 100 /room/night
Book via

11

The Elementum Bali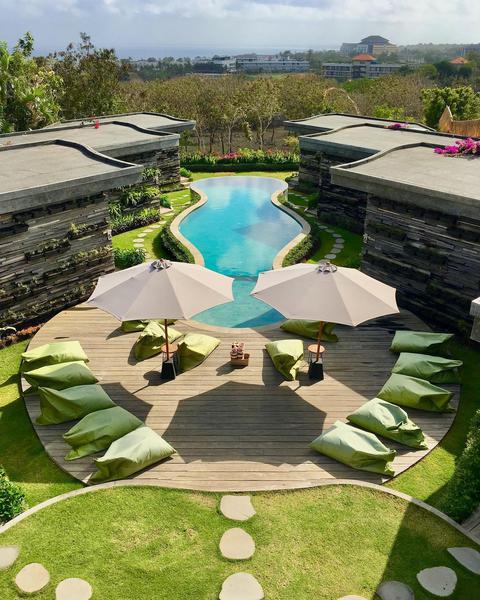 Photo by @vicsagi
Just 5 minutes away from Bingin Beach, The Elementum is composed of 8 contemporary industrial chic private rooms and 1 suite. From the building's architecture optimising the use of natural lights; the non-use of chemicals in the gardens and pool, no plastic amenities but also at the restaurant with the use of locally grown produce.
Expect comfortable beds and cool design in each room with a direct view to the pool while some offer a direct view to the sea -heaven!
THE ELEMENTUM BALI
Jl. Pantai Bingin, Pecatu

Price :

Approximately USD 95 /room/night
Book via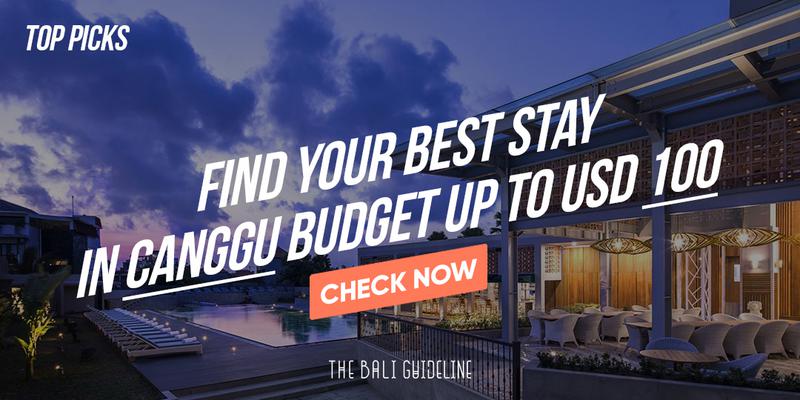 ---