Kuta has taken its bar scene to a whole new level with the emergence of W XYZ Bar, a one-of-a-kind and vibrant hotspot located within the vibrant Beachwalk Shopping Mall in Kuta, Bali. It's funky and modern interior offers an unforgettable lounge experience that's hard to find elsewhere. You can find yourself enjoying a game of pool, indulging in inventive cocktails, relishing mouthwatering dishes, or simply immersing yourself in its lively ambiance!
The Space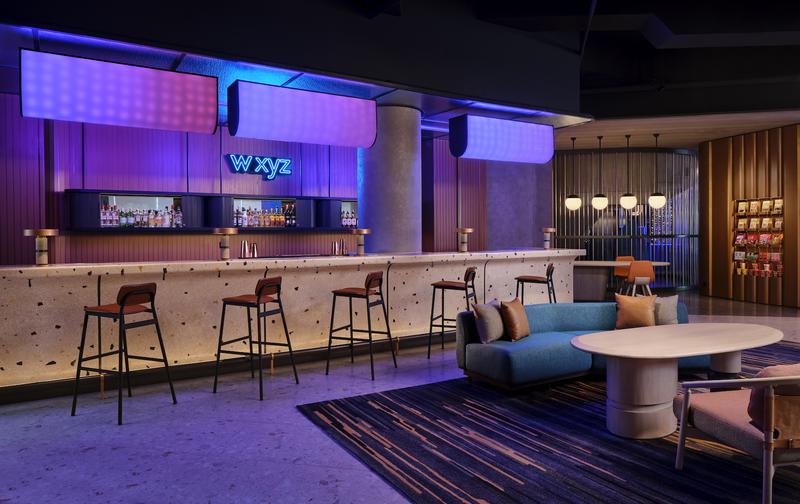 Situated in Aloft Hotels lobby and the only bar in the Beachwalk Shopping Mall area, W XYZ Bar should be on your must-visit list when you're in the Kuta Area. This bar boasts a stylish, modern, and funky decor that makes an ideal atmosphere for a late-night me-time drink or a fun night out with your friends. And that's not all! You can also relish acoustic performances and engage in friendly billiard games with your pals.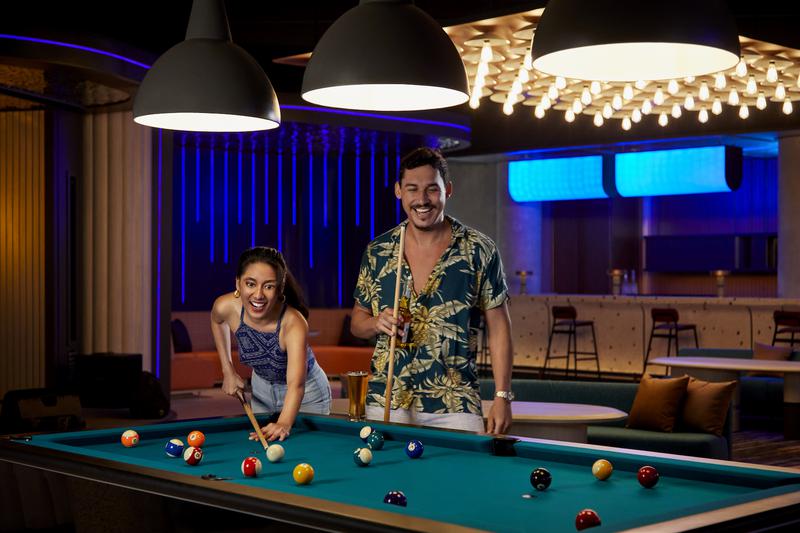 The Drinks & Bites
Stepping into W XYZ Bar, one quickly realizes it's far more than just a bar. Opening its doors daily from 9 AM, the bar serves freshly brewed coffee and crafted pastries, catering to the morning crowd.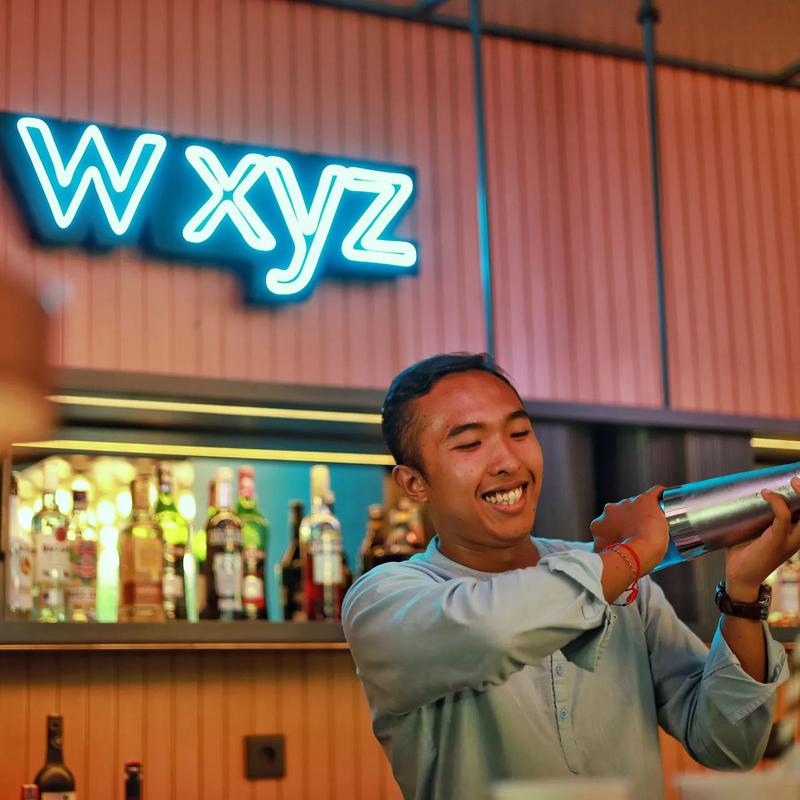 Under the skilled hands of their star mixologist, Putu Adi, W XYZ Bar becomes an epicenter of inventive mixology. Consider the 'K-Pop' – a vibrant concoction that resonates with its namesake, blending gin, soju, lemon, basil, and dragonfruit. Not to be outdone, the 'Six-Strings' offers a melodic blend of gin, lemon, strawberry, tangerine, butterfly blue pea, and tonic water, evoking harmonious notes with each sip
For those who appreciate nostalgia with a contemporary twist, the classic 'Honky Tonk' is the perfect choice. This cocktail blends white rum, coconut, pandan, cream, pineapple juice, orange juice, and honey. And last but not least, 'Melodic Hardcore' is a bold and adventurous selection, combining vodka, lime juice, orange juice, lychee, and sprite. It's a drink that'll take your taste buds on a wild ride!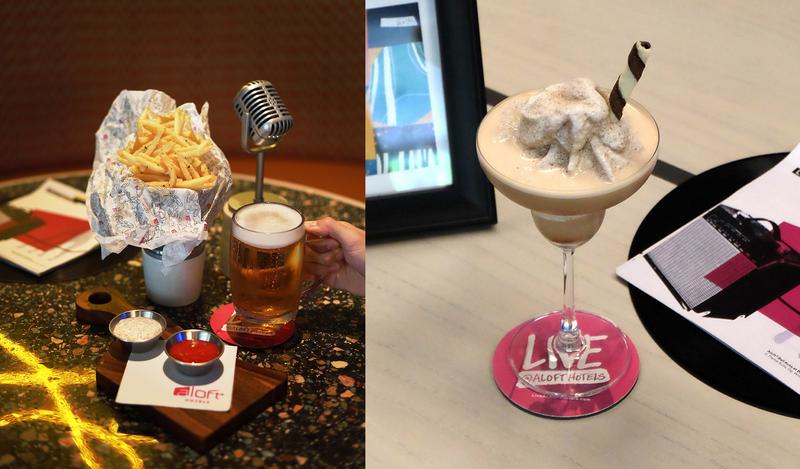 If your taste buds are doing a happy dance and your tummy's feeling a little rumbly, don't hold back – give W XYZ Bar's delightful light bites a whirl! From the irresistible Lennon's Fish Sliders to the zesty Ayam Betutu Taco and the mouthwatering Fries with Truffle Parmesan, these must-try dishes will take your palate on a flavor-packed adventure, your tastebuds will thank you!
Verdict
Kuta's got a fresh vibe, and it's all at W XYZ Bar! Whether you're chilling after a beach day or gearing up for a night out, this spot's got your back. Right in the heart of Kuta, Bali – swing by, and see what the buzz is all about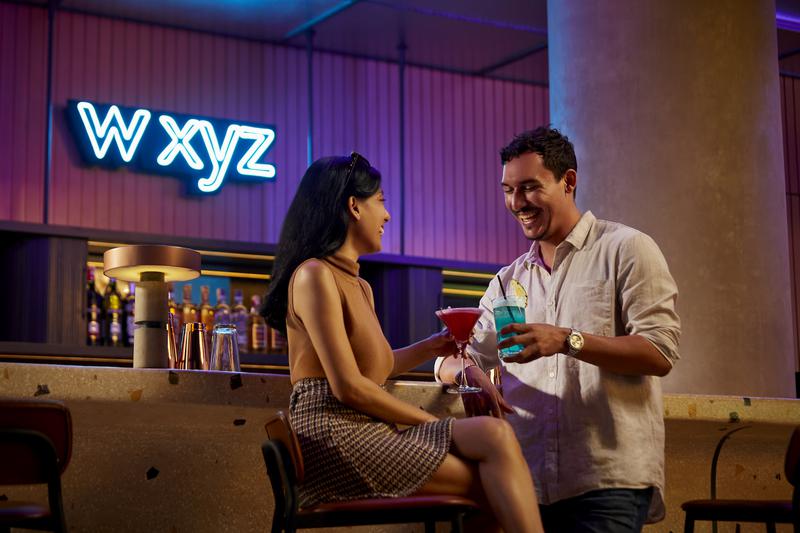 Insider's tip: Don't miss the 'Yippee Hour', 6-10 pm daily. Enjoy a Buy One Get One on selected cocktails. And for a satisfying pairing, the 'Brew & Beats' combo: Truffle Fries paired with a cold beer, all for just IDR 95k
---